Capture more clients with flexible HVAC financing
Allow your customers to pay with convenient monthly payments
1.

Get a tailored proposal

Since offering flexible payment options isn't a one size fits all approach, we'll kick things off by understanding your needs and developing a custom financing program that's suitable for your business. Our goal is to offer your clients the best financial freedom they need for home improvement.

Contact Us

2.

Apply to become a client

After working with us to identify your special requirements and getting all of your queries (if any) answered, the next step will be to apply to become a client and officially become a part of the Time Investment family. This is done online with a simple application process.

Apply Here

3.

Start submitting loans

Once your application to become a client is approved, we'll provide you with personalized training. Whether your clients need an air conditioning fix, heat pump, or a new HVAC system, you'll start submitting and tracking their applications in no time.

Login Here
As a business that specializes in HVAC, you could potentially onboard a significant batch of new customers by offering flexible financing options.

And the best part? By partnering with Time Investment, you won't have to do any legwork, because we'll look after the entire process for you.

Whether you specialize in installing just air conditioning systems, new heating systems, or full HVAC units, it doesn't matter – we'll offer swift financing to your clients at the most reasonable terms.

From overseeing the applications to assuming all the risk, with our HVAC financing options, your customers can cool off, while you can focus on scaling your business.
Why Choose Time Investment
Apart from the raving fan customer service, there are a lot of other compelling reasons to choose the special financing service of Time Investment.
Some of them include:
1. Rapid-fast loan application process (resulting in more sales)
2. Programs catering to different credit scores
3. Automatic payments from customers
And that's just the tip of the iceberg.
Being a family-owned and operated business since 1981, we have stayed true to our approach of cultivating long-term relationships with both our partners and distributors (loan lenders).
When a business signs up for Time Investment's HVAC financing, they're not perceived as "just another client" – instead, we consider them as an esteemed partner and go above and beyond to ensure that we offer quick credit approvals and plans with low monthly payments.
We're especially proud of our "raving fan" customer service, which has helped us create positive relationships with our partners.
In fact, 95% of our customers come exclusively from word-of-mouth, which is a testament to the untiring efforts of our customer service, dealer, and collections departments.
Our partners love the work that we do
Read what our clients have to say about their experiences working with Time Investment.
Learn More
We have been working with TIC since 2008. The reason we use them is the personal service we receive. TIC owners John, Mike, and Tom are involved in the daily business. They make it real easy for the dealer and customer.
Steve, Culligan Water
My favorite part about TIC has been the continued support I receive from the folks that man the dealer services phones, and specifically from my dealer rep. My colleagues at TIC have a seemingly unlimited supply of patience for me. I value that team-oriented spirit and feeling that I get from TIC. I never feel like I'm alone, when using their service.
David, Allied Remodeling
Frequently Asked Questions
Is Time Investment a personal loan provider?

Time Investment is a third party lender/financing company that specializes in providing flexible customer financing solutions. We work with third-party dealers/distributors to provide financing to the customers of our partners at competitive interest rates.

What financial products does Time Investment offer?

We specialize in offering consumer financing through installment loans – perfect for a business offering HVAC services/products. Furthermore, we offer revolving lines of credit to cater to niches, where customers engage in ongoing or repeat transactions.

How exactly does consumer financing work?

With consumer financing, your customers don't have to worry about paying for HVAC services upfront and breaking their bank accounts. Instead, they can pay for these services and other high-ticket items through convenient monthly payments.

Is there a special requirement to partner with Time Investment?

As of now, we only serve clients in the home improvement (that includes you), medical, energy savings/conservations, memorial monuments and services, water filtration, home food services, and cookware industries in the United States.

What credit scores do my customers need to get approval for financing?

Another great thing about the HVAC financing from Time Investment is that it doesn't matter if your client has a good or bad credit – our comprehensive financing program caters to a wide range of tiers. By offering flexible plans for prime, non-prime, and even no credit customers, we'll make sure that none of your prospects are left out and that you maximize your sales.

What makes Time Investment so special?

One thing that makes Time Investment stand out is our top-of-the-line customer service. Our experts will be there to assist you with everything – offering the best advice and always keeping your best interests in mind.
How to Offer HVAC Financing to Customers
Today, the demand for HVAC financing is forcing service providers to reconsider the finance solutions they provide to customers.
It cannot be denied: the stats have said it all.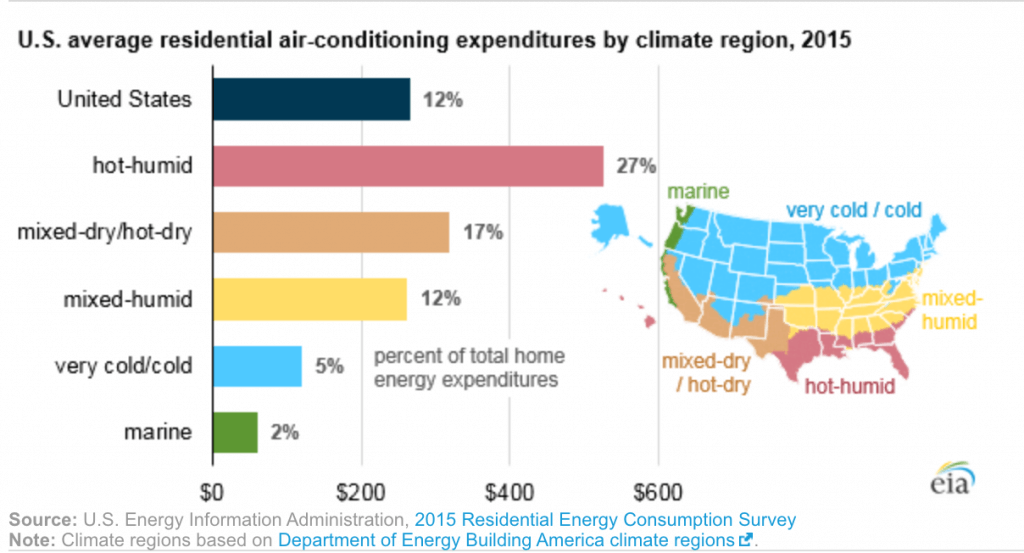 Credits. U.S Energy Information Administration
From as early as 2015, a report shared by the U.S Energy Information Administration indicated that air conditioning represented 12% of home energy expenditure in American households.
Today, Statista claims that the global HVAC market size will be valued at $367.5B by the year 2030, a figure which represents a significant projected upward trend in the years leading up to 2030.
With air conditioning already constituting a significant portion of American households' budget, service providers now have a fruitful and remunerative opportunity to boost service orders and allow homeowners to access the projects they need in a more affordable way.
In this article, we will dive into more information concerning what HVAC finance plans usually cover, the main benefits they offer to HVAC companies, and how these businesses can become lenders today.
Let's get started.
An Overview of HVAC Financing
HVAC financing is a line of credit granted to a property owner or homeowner to cover the cost of projects or work related to heating, ventilation, and air conditioning.
To be more concrete, this funding is geared towards dealing with expenses on systems that deal with cooling and heating (like air conditioners and energy-efficient/energy-saving cooling systems) indoor and outdoor areas. HVAC systems also filter and purify indoor air, maintain high standards of air quality, and keep humidity levels at a healthy and comfortable degree.
For this reason, HVAC services are rendered to both residential and commercial clientele since both audiences need cooling, heating, and ventilating needs all-year-round.
HVAC financing projects include those which involve outdoor piping, heat pumps, ductwork, installation of equipment or AC units (be it geothermal, mini-split, retrofit, multi-stage, single-stage, and two-stage air conditioning unit). However, on occasion, they may also lend themselves to other types of work that may not necessarily be considered pure HVAC projects such as window installation or home comfort systems.
HVAC financing is a costly home improvement initiative, and most people cannot bear the full brunt of the economic blow.
For that reason, they often turn to financing options.
What HVAC Financing Brings to Lenders
Delivering HVAC financing solutions to homeowners and property managers alike promises serious profit gains and lucrative benefits to the lending company.
Some of the major benefits that lenders can obtain from this special financing include:
Increasing your service orders

: Due to the elevated costs of HVAC work, homeowners tend to be discouraged to partner with HVAC service providers who force them to pay in full. Instead, they usually gravitate towards those who offer alternative finance options since that affords them greater freedom with their finances. Consequently, having HVAC finance options increases the chances that clients will want to hire you for their next project.

Being competitive in the face of your adversaries

: HVAC service providers are everywhere you turn. If you want to be competitive and stand out among your competitors, the best way is to deliver attractive finance solutions that make clients want to use your services.

Reach more segments of your target audience

: Along with the boost in service orders, providing funding for HVAC projects also opens up the way for you to explore new markets that you wouldn't have necessarily targeted. This is because the introduction of a new financial service means that you have greater chances to capture new market segments as you expand what you offer to customers.
The Dangers of Traditional HVAC Financing Plans
At present, those homeowners who have sought financing offers for their HVAC projects have mainly been exposed to service providers who offer either one or more of the following options:
Unsecured personal loans
Secured personal loans
Home equity loans
Home equity line of credit
Cash-out refinance
Credit cards
However, despite the seemingly numerous options that exist, all of them present some major inconvenience or represent a serious concession to those who elect to leverage them:
High-interest rates

: Unsecured personal loans are known for making the credit approval process easier since they require less supporting documentation. However, the downside is that the interest rate is often so high that it's a huge deterrent for clients.

Unfavorable terms and conditions

: When lenders draft up the terms and conditions of the loan, in most cases they cannot be modified and most importantly, they hardly take into account the specific financial needs of neither commercial nor residential clients. As a result, in most cases, the terms and conditions of these loans, be it in terms of the repayment dates or monthly amounts, are unsuitable to borrowers and do not ease their financial stress. What's more, if you have an existing bad credit score, that can seriously hurt your chances for a loan.

Capped credit limits

: Most lenders have a non-negotiable maximum amount that borrowers can request. Needless to say, those borrowers who need more than the requested amount find themselves at a loss since the finance plan they are requesting does not meet their specific needs.
In short, the most evident problem is that traditional finance plans do not meet the specific demands that current customers have.
Now, the improved version of these plans lies in the flexible finance plan, one which grants the borrower more freedom in their payment options.
Here's how you can deliver them to your clients with Time Investment Company.
Time Investment Company for HVAC Financing
Time Investment Company (TIC) is a private family-owned finance company with over forty (40) years in the business of creating unique and compelling finance solutions for businesses and their clients.
We specialize in creating flexible finance options for companies that operate in the HVAC niche.
That includes service providers who install air conditioning systems and even full HVAC units (among others).
We work directly with companies just like you to build captivating finance plans that provide an answer to the need for comfortable financing on HVAC projects.
Through TIC's solutions, your customers make a deposit in their HVAC loan and clear the remaining balance in fixed monthly payments all at an overall lower interest rate than what they would get from a traditional plan.
Being a close-knit family-run business, we value the concerns, needs, and demands of both clients and their customers. It is for this reason that we go the extra mile by sitting with you and fleshing out the best possible plan for your customers.
At present, we have partnered with over 250K businesses and funded more than $775M successfully-repaid loans.
Be our next success story and connect with a business that places you and your customers first in the quest for all-around better financing.
Takeaways for HVAC Financing
All in all, the best way to remain competitive and pull in more income is through HVAC flexible finance plans.
If you're looking for a path to these kinds of solutions, TIC is poised to help you.
Reach us via (800) 236-1177 to discover how you can start offering these types of finance plans for your customers today.